Housekeeping Attendant Jobs In Canada
For the post of housekeeping attendant, Derko Ltée, situated in Québec, QC, is accepting applications from qualified applicants who are self-motivated and possess strong interpersonal skills. The chosen individual will need to get to work as soon as possible. The openings are for full-time or permanent work. Day, Evening, Night, Shift, Early Morning, and Morning shifts are available.
Employer Name: Derko Ltée
Position: Housekeeping attendant
No. of vacancies: 4
Salary: $20.07 hourly 35 hours per week
Employment type: Permanent employment, Full time
Location: Québec, QC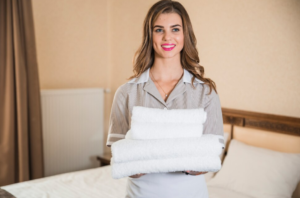 Position Description
It will be required of the candidate to sweep, mop, wash, and polish floors.
Dusting furniture will be expected of the candidate.
The applicant will be required to hoover upholstered furniture, carpeting, area rugs and drapes.
Towels and toiletries must be provided by the candidate.
Cleaning, sanitising and polishing kitchen and bathroom fixtures and appliances would be requested of the candidate.
The candidate will be in charge of emptying garbage cans and picking up waste.
It would be expected of the candidate to address issues or complaints raised by clients.
Position Requirements
The candidate should speak French with ease.
Standard educational qualifications like a bachelor's degree, a certificate, or a certification are not necessary.
Experience among candidates is a plus.
Candidate must have a client-centered attitude.
The candidate must be trustworthy.
Physical requirements and working conditions
The applicant must be able to work in a hectic, fast-paced workplace.
The applicant should be ready to handle physically hard jobs on a daily basis.
The applicant ought to be meticulous.
The applicant must be prepared to perform long stretches of time in a standing position.
The applicant must be prepared to spend a lot of time bending, squatting, and kneeling at work.
How to Apply
If you are interested in applying, apply through the given options.
By email                                               
By phone
418-656-6731  Between 08:30 AM and 04:30 PM